adapted from Levana Cooks, using Garden Vegetable Levana Nourishments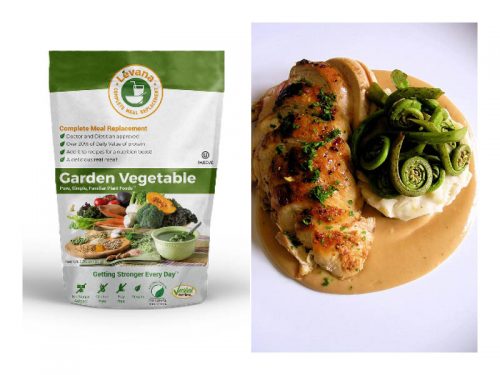 Your chicken breasts will never come out dry ever again.
I guarantee it!
These chicken breasts are succulent and fork-tender. The marinating step is important here, so please do not skip it, the reward is a fabulous dish. Even if you marinate it briefly, for one hour, it will work great.
I like to make the full size recipe
Even if we are only two people. It freezes so nicely. Plus the leftovers are delicious cold, sliced in a salad or in a sandwich. You will be happy to find a couple tucked carefully in ziplock bags in the freezer!
Ingredients
1/2 basil leaves, packed

1/4 cup olive oil

3 large cloves garlic

Coarsely ground pepper to taste

1/2 cup dry white wine or sake (no alcohol: Non-alcoholic beer will work too)

2 pouches Levana Nourishments Garden Vegetable

6 half chicken breasts, preferably with skin on, boneless and left thick

2 tablespoons balsamic vinegar
Instructions
In a food processor, form a paste with the first set of ingredients.
Transfer to a mixing bowl, combine well with the chicken, and marinate one hour, or overnight.
Preheat the oven to 450 degrees.
Arrange the chicken breasts in one layer, marinade and all. Bake 15 minutes. Add the vinegar and bake 10 more minutes. Let the chicken breasts rest just a few minutes, then slice each breast across, you will get 3-4 thick slices per breast. Serve hot with all the cooking juices. Room temperature will be OK too.
Makes 6 servings.