adapted from Levana Cooks, using Garden Vegetable Levana Nourishments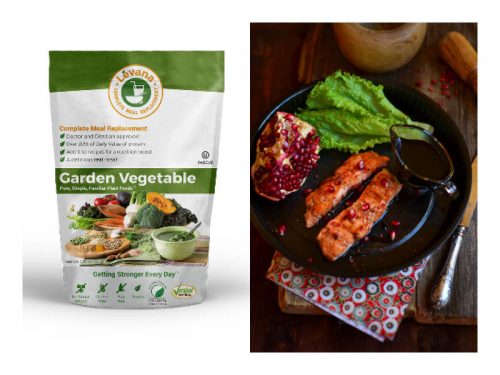 Salmon pomegranate sauce showcases sweet-and-sour flavors beautifully.
They are a favorite Sephardi combination. The onions caramelize naturally during the cooking process, and contribute a sweet counterpoint to the vinegar.
Salmon Pomegranate Sauce is a quick and delicious dish, just the way I like it—one pan, one step.
I hope you think of pomegranate juice more often when you cook, not just this salmon in pomegranate sauce. Of course I mean pure pomegranate juice: Unsweetened, undiluted. I love the sweet-tart contrast in the flavors, and the naturally syrupy texture that forms a natural sauce at the end of cooking.
Ingredients
4 6-ounce slices boneless skinless salmon or other thick-flesh fish, such as bass or scrod

1 large red onion, sliced very thin (use the food processor)

3 tablespoons olive oil

1/2 cup unsweetened pomegranate juice

2 tablespoons unfiltered apple cider vinegar

Salt and pepper to taste
Instructions
Preheat the oven to 425°F. Place the salmon in a pan just large enough to accommodate the fish in one layer. Scatter the onions on top and on the sides of the fish. Mix all remaining ingredients in a bowl, and pour evenly over the fish. Cook about 15 minutes, or a tiny bit more until the fish flakes easily and the liquids thicken. Serve hot or at room temperature. Makes 4 servings