Levana Cooks,
using
Cocoa Coffee Levana Nourishments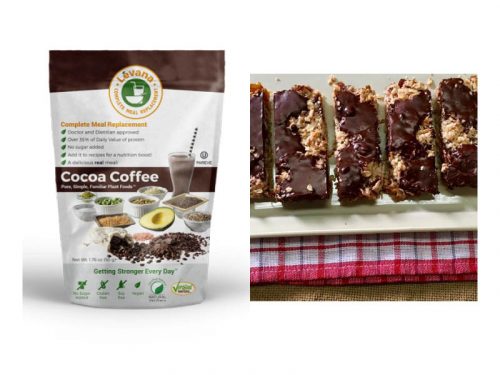 My newborn Oat Coconut Chocolate Tart is a rustic new-age version of its nutty once-removed cousin, the beloved Linzertorte. My Chocolate Tart has no nuts, but its texture is very reminiscent of Linzertorte, a great boon for those nut-intolerant people who want their Linzertorte and eat it too.
Having said that, if a nutty chocolate tart is what you prefer, no problem substituting almond flour for the old fashioned oats (just to be clear: In this case you would use 1 2/3 cups almond flour, and 1 2/3 cups oat flour) and proceed with the recipe just as instructed.
It is also worth noting that my Chocolate Tart is made with rolled oats and oat flour, making it naturally gluten-free, no substitutions needed. Plus I'm an Oat Nut: Take a look at my Chocolate Pots de Creme!

I have matched some of my great flavor favorites in this delicious  Oat Coconut Chocolate Tart: coconut, apricot jam, chocolate and oats. It tastes as wonderful as it looks.

Adapted from
Ingredients
Crust and Topping:
1 2/3 cups old fashioned oats

1 2/3 cups oat flour

1 cup coconut oil

3/4 cup coconut sugar

1 cup unsweetened grated coconut

1 teaspoon baking powder

1/2 teaspoon salt
Filling:
Chocolate Drizzle:
Instructions
Preheat the oven to 350*.
Mix all crust topping ingredients thoroughly. Set aside 1/3 of this mixture, this is your topping.
Generously spray a 12-inch tart pan (springform is always easiest), or two springform rectangle molds, and press the crust firmly in the bottom to compact it.
Spread the jam evenly on the crust. Crumble the topping mixture evenly over all.
Bake about 40 minutes, until the top looks nice and golden.
Melt the chocolate chips with the oil (in a small saucepan on a low flame, or in a microwave), and mix until smooth. Drizzle the chocolate mixture over the tart.
Let the tart cool. Cut the tart into wedges, or into thin strips if you used rectangle molds.
The Chocolate Crumble Tart freezes beautifully, so don't hesitate to make it ahead of time, only please seal it thoroughly before freezing so it doesn't absorb odors or moisture.