Adapted from Levana Cooks using Garden Vegetable Levana Nourishments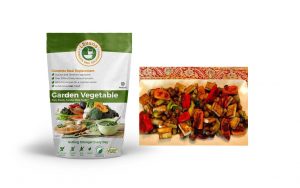 Vegetable Tofu Stir Fry: the Perfect Dinner!
You don't need to wait until Meatless Monday to enjoy it. It is quite a substantial one-dish main course any time. You could swear you're having a steak dinner: It's that hearty!
The miso sauce and Sake yield a rich, silky and luxurious sauce. I took my recipe Asian all the way. Pretty easy to take your dish in any direction with a well stocked pantry!
For this Vegetable Tofu Stir Fry, I love to use Super Firm Tofu!
That's the firmest textured tofu in the whole tofu gamut, and is becoming increasingly available. It lends itself beautifully to grilling and stir-frying. Firm and reliable, it won't let you down or break apart: You will enjoy it more often. It only needs a few drops of oil to sear on each side.
You have plenty of room to play!
Although I was very happy with my vegetable selection, on another shopping day I might find something else more inviting. So this week it was tiny, and I mean tiny rainbow baby potatoes, less than an inch in diameter. They were impossibly cute, so of course I knew better than to leave them behind. Then I found small cremini, small baby bok choy, and small baby peppers. But many other choices will do: Small Brussels sprouts, asparagus chunks, thin zucchini, sliced shiitake, sliced nappa cabbage, even diced kohlrabi, butternut squash chunks, and so on. Likewise, you could skip the potatoes and serve the whole dish on a bed of soba or rice noodles.
Do not add any salt to the dish!
Once you put in the miso, you will find the dish amply seasoned without any added salt. You don't want to ruin your dish by making it too salty!
Always have some exotic spices on hand!
I always have chipotle powder and truffle salt on hand: Accessible, exotic and low maintenance luxuries that help turn your pantry into a real treasure trove. (Enjoy the truffle salt in another dish though, we have enough salt in the sauce)
Use a large nonstick skillet!
That's a must-have utensil. As usual with stir fry dishes, the wider the bottom of the skillet, the less oil you will need, and the faster your dish will come together, even while it keeps its vibrant color and crunch. Stir-fry the vegetables that have a comparable cooking time together. For example: stir-fry nappa, mushrooms and baby peppers together. Stir fry baby potatoes and tofu together, and so on.