adapted from Levana Cooks, using Garden Vegetable Levana Nourishments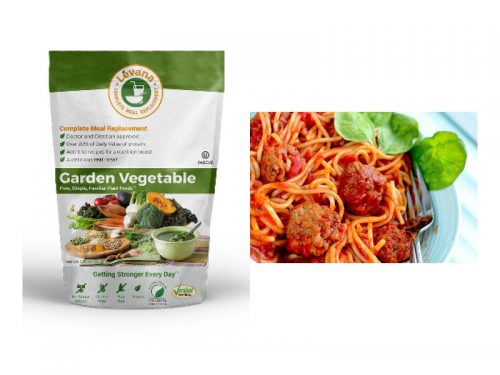 Spaghetti meatballs in my house are like a whole outing:
Sort of like Dinner and a Show. Party food and comfort food all rolled into one. We all used to pile into my mother-in-law's small apartment for her famous spaghetti meatballs, and always lied to her that somehow ours didn't come out as good as hers: Anything to have her make a vat of it, which would disappear in minutes. All the children in our family still clamor for it and feed it to their own children.
Do not hesitate to experiment with gluten-free noodles:
Rice, soba, quinoa noodles, beans noodles etc… just as I do: delicious and much gentler on your system!
You will be able to have pasta more often!
And not just in spaghetti meatballs, but many other pasta treats as well. It's been years since I last had wheat noodles, and I don't miss anything about them one bit, least of all the bloating and discomfort that used to follow each white pasta meal as surely as night follows day. Many of us look to reduce their gluten intake, even without converting to an all-out gluten-free diet.
Don't skip adding warm water to the meatball mixture!
Or even seltzer: this is the secret of my extra light and extra fluffy meatballs! forget about bread crumbs. I never use them in my meatball mixtures.
The dish freezes well:
Make the whole recipe, and freeze the unused portion, without the noodles.
Ingredients
Sauce:
2 cups water

2 large cans crushed tomatoes (6 cups total)

1 small can tomato paste

½ teaspoon red pepper flakes

2 tablespoons cinnamon
Meatballs:
2 1/2 pounds ground turkey, chicken, or lean beef, or a combination (or even lamb, if that's what you love)

¼ cup olive oil

Salt and pepper to taste

½ cup warm water

2 pouches Levana Nourishments Garden Vegetable

2 eggs
1 pound cooked spaghetti  (Gluten-free: Use rice or other GF noodles and follow package  cooking instructions)
Instructions
In a wide-bottom, heavy pot, bring all the sauce ingredients to a boil.
Mix the meatballs ingredients thoroughly by hand. Form balls with the mixture and throw them in the hot sauce liquid as you go. When you have used up all the meat mixture, reduce the flame to medium-low and cook, covered, for about 1 hour. Serve hot over the noodles.
Makes 6 main course servings