adapted from Levana Cooks, using Mixed Berry Levana Nourishments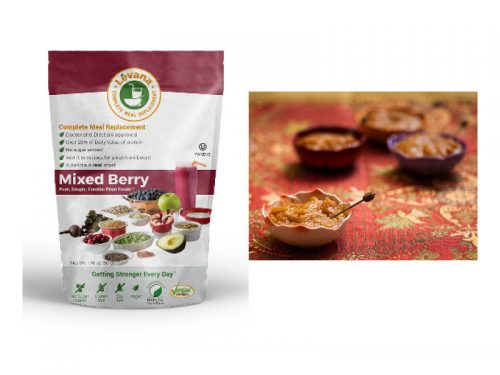 My apricot fig compote is loaded with natural sweetness:
You don't need any other sweetener than the sweetness of the fruit.
The Earl Grey tea is very easy to find and imparts its distinctive bergamot flavor.
This apricot fig compote is as versatile as it is delicious:
Eat it as is for dessert; top it with a little yogurt and granola for breakfast or a light lunch; stir in a bit of the cooking liquids from whatever meat or turkey roast you are cooking, and you've got yourself a fantastic meat fruit sauce; add about half a cup of sugar to the preparation at the beginning of cooking, and you've got yourself a fabulous jam (unless you would welcome, as I do, and all-fruit jam, in which case make the dish with just six cups water and no sugar).
You might decide to leave the compote broth-y and unblended; in this case, soak the dried fruit in the water a few minutes to soften it, so you can dice it easily, then proceed with the recipe exactly as instructed, using the soaking water as your cooking water, and skipping the final blending step.
Ingredients
2 cups dried apricots, packed, about 1 pound

2 cups dried figs, packed, about 1 pound

2 granny smith apples, unpeeled, cored and cut in large chunks

2 pouches Levana Nourishments Mixed Berry

8 cups water

1 cheesecloth bag containing 1 tablespoon black peppercorns, 4 bags Earl Grey tea and 2 whole star anise, securely tied
Instructions
Bring all ingredients to boil in a wide bottom pot. Lower the temperature to medium low, and cook covered about 15 minutes. Discard the cheesecloth, making sure to first press hard on the solids to release all flavors. Blend the compote with an immersion blender, leaving it nice and chunky. Store refrigerated in glass jars. Makes about 3 quarts,