Levana™ Nourishments was born in Chef Levana Kirschenbaum's Upper West Side kitchen.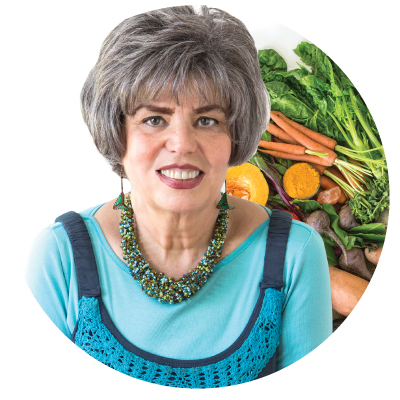 After years of professional cooking, catering, writing cookbooks and co-owning her namesake restaurant, Levana found herself confronting a far more formidable task.
Levana's husband Maurice had been diagnosed with cancer and during the difficult treatment and multiple hospitalizations, there were long stretches where food felt like the enemy to him. (Plus he was severely constipated– a frequent side effect of chemotherapy and morphine treatment.)
The standard institutional Nourishments products all had something in common: they were full of chemicals and sugar, plus they tasted chalky and unpleasant and caused further constipation. Maurice rejected each one in turn and soon reached a near-skeletal weight. Levana and her family were staring at the real possibility of Maurice dying of hunger in a house full of delicious food–despite the fact that his superstar medical team said he was doing extremely well with his treatments.
Instead of getting dejected, Levana seized her usual enthusiasm and "get it done" attitude and went to work. She summoned up her lifelong training as a food professional and pioneer in the food industry, and brought it to bear.  A renaissance woman and lifelong artisan doubling as a distraught wife and caretaker? This is where the rubber meets the road!
Levana tied on her apron, rolled up her sleeves and got to work.  Her goal:  meet mandated nutrition numbers in the lab-produced products, but with a big difference:
 She would include only natural pure simple familiar plant foods.
For almost a year she tinkered with ground grains, seeds, berries, vegetables, herbs and spices, using ingredients in endless permutations.  She finally settled on five perfect blends, each with a balanced nutritional profile.  Beloved husband Maurice was the tester.  At first she had to force him to eat—indeed for three of four months these blends were practically all he ate.  Lo and behold, he began to gain weight and strength, and even requested the "magic potion."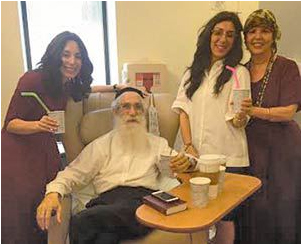 Maurice's medical team called him "The Gold Standard," as his strength returned (along with his regularity!) and he was able to withstand the debilitating treatment regimen.
This is when Levana knew she wanted to make Levana™ Nourishments available to the public. Her five recipes got fine-tuned and she consulted with cancer doctors and dietitians.  Dr. Joe Regenstein of Cornell University came on board as a food scientist, ensuring that Levana™ Nourishments delivered on the complete nutrition promise, including professional lab analysis and all-natural certification of ingredients.
We welcome your thoughts and ideas as we embark on the Levana™ Nourishments! If all the calls and all the mail we receive are any indication, this is an idea whose time has come and will find a place among the health community as a much-needed and welcome natural and complete Nourishments alternative.