adapted from Levana Cooks, using Garden Vegetable Levana Nourishments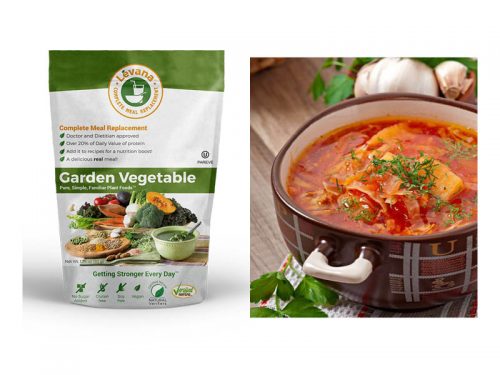 My borscht is as quick as it is hearty.
It is a triumph of sweet-and-sour match.
I call my borscht quick, because although I love the Russian classic beef-based version and enjoy it occasionally, I have no intention (and neither do you, I'll bet!) of spending half the day making the classic high-maintenance beef-based original on a regular basis. I just love the idea of a great vegetarian borscht, and all vegetarian soups, good with any meal and in all seasons.
The food processor will make short work of grating, grinding, and slicing all your ingredients—30 minutes of cooking is all my soup needs, as the ingredients' flavors are so intense, and all ingredients are shredded fine.
Beets are totally vindicated in this soup: About time!
Ingredients
1 large carrot, grated (shredding blade)

1 small white cabbage, sliced very thin (slicing blade)

2 large beets, grated fine (shredding blade)

1∕3 cup olive oil

2 pouches Levana Nourishments Vegetable Medley

1 large can (3 cups) crushed tomatoes

2 tablespoons paprika

8 cups water

Salt and ground pepper to taste

1∕4 cup unfiltered apple cider vinegar

2-3 packets stevia

Optional garnish: Plain yogurt
Instructions
Bring all ingredients to a boil in a wide bottom pot.
Reduce the flame to medium and cook covered about 30 minutes, or a little longer, until all vegetables are very tender. Adjust texture and seasonings. Serve hot, with a dollop of plain yogurt of desired.
Makes 8 servings.