adapted from Levana Cooks, using Mushroom Medley Levana Nourishments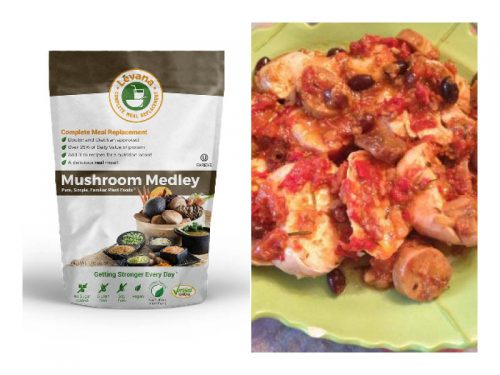 This Chicken tomatoes dish is spectacular
All the more spectacular than I whipped it up in no time. The tomatoes are the big star here, so use fresh tomatoes please. Plum tomatoes are nice and meaty, and never let you down!
About 15  inches round, almost 3 inches deep. Ideal for all stovetop dishes, Tajine style. You know me, I love stovetop cooking. The  resulting dishes are always ideally succulent and saucy.
The dish is very easy to make, so try to find fresh rosemary and thyme, widely available everywhere.
If you decide to make the chicken tomatoes with chicken breasts, add 1/4 olive to the pot. This is because chicken breasts need a little more help to be as moist as dark chicken.
Nicoise Olives are increasingly easy to find. they are very small, so they disperse nicely in the dish. It doesn't hurt that are so cute and so delicious!
I love to slice them before serving, as it allows the sauce to penetrate from all sides
Ingredients
2 pouches Levana Nourishments Mushroom Medley

8 plum tomatoes, diced

1 cup pitted niçoise or other good quality olives

2 sprigs rosemary, leaves only

4-5 sprigs fresh thyme, leaves only

Ground pepper to taste

1 cup dry white wine

1 cup water

8 large chicken thighs, skin and bones on (or 6 half boneless skinless chicken breasts + 1/4 cup olive oil)
Instructions
In a large skillet with straight sides, bring all ingredients to a boil. Reduce the flame to medium, and cook, covered 45 minutes. Transfer the chicken to a cutting board with a slotted spoon.(if you used chicken breasts, cut them about 1/2 inch thick across)
Check the liquids in the pot: If they are too thin, reduce on a high flame until they are thickened to the consistency of maple syrup. Pour the sauce over the chicken. Serve hot. Makes 4 main course servings.