adapted from Levana Cooks, using Garden Vegetable Levana Nourishments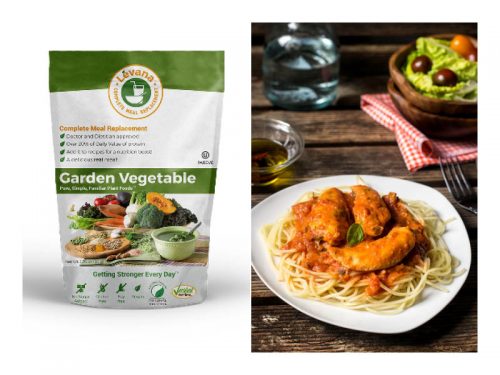 Chipotle Chicken is delicious.
It has a thick and delicious sauce that forms naturally while the dish cooks.
I can make a delicious and dairy-free mock cream sauce in meat dishes by stirring in a good quality plain soy or coconut yogurt!
Yes: Kosher food has moved up in the world, just the way I like it: Natural!
Chipotles are smoked red peppers
They are delightful and easy to find in powdered form, and a great staple in Latin Cooking.
Hot hot hot, so don't get carried away! The mock cream sauce in this Chipotle Chicken is so delicious you might consider using it even in dairy dishes. The mock cream sauce keeps the chicken breasts delightfully moist.
The dish freezes very well
Make the whole recipe, and freeze the unused portions.
Ingredients
1/3 cup olive oil

8 skinless chicken cutlets, left thick, blotted thoroughly dry with paper towels

Flour, any kind including gluten-free

1 1/2 cups water, or a combination water and dry white wine

2 pouches Levana Nourishments Garden Vegetable

Juice and zest of 1 lemon

1 tablespoon ground chipotle powder

1/3 cup soy or coconut yogurt

Garnish: minced parsley or thinly sliced chives.
Instructions
Heat the oil in a large heavy skillet. Dredge the cutlets in flour, shaking off the excess. Add to hot oil and sauté about 2 minutes on each side, until golden.
Add all but last 2 ingredients, and bring to a boil. Reduce the heat to medium and cook, covered, 10 minutes. Transfer the chicken to a platter. Whisk the yogurt into the liquid left in the skillet, adding it gradually so it doesn't curdle. Pour the sauce on the chicken, and sprinkle with the garnish. Serve hot, over noodles or rice. Makes 8 servings.