adapted from Levana Cooks, using Vanilla Bean Levana Nourishments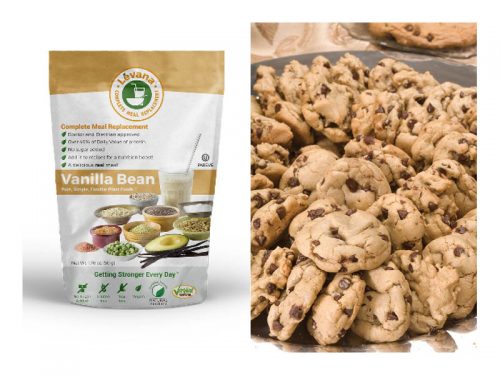 My chocolate chip cookies recipe is in all my cookbooks.
I can never make enough of these; and apparently, neither can thousands and thousands of people. You would think I would get tired of them. Absolutely not!
Besides high-quality ingredients, the secret of good chocolate chip cookies is a soft and chewy texture, achieved by baking them only until they are just cooked, not a second longer: Remember, they continue to cook for a minute or two even as they cool.
No problem making chocolate chip cookies with gluten-free flour.
A good cookie sheet makes a difference too: The heavier the better, as a heavy sheet will distribute the heat evenly and gradually.
These chocolate chip cookies have recently won Best Recipe award in a health and nutrition site called Health Castle. Upon reading this, my friend Eve wrote me: "May your delicious cookies—we can attest to how delicious they are—melt in the mouths of millions with nary a hint on the hips!" Amen!
Recently, the Jewish Book Council invited me to write a few stories on their blog: one of them was on my CCC: You might enjoy reading it!
I have recently made a major tweak in chocolate chip cookies: reduced sugar. And it works!
Chocolate chip cookies often err on the sweet side, and even though I love them, I almost never got near them, and was reticent about tempering with the sugar. But now I see it works perfectly, and I (and you) can finally enjoy them more often without too much guilt.
Just one added very easy step you must take with reduced-sugar cookies: Flatten them before baking!
Ingredients
2 eggs (if you can't have eggs: 2 tablespoons flax meal mixed with 1/3 cup warm water)

2 pouches Levana Nourishments Vanilla Bean

1/2 cup coconut sugar (or 1/3 coconut sugar and 2 tablespoons stevia or truvia)

1 cup coconut oil or extra light olive oil

1 tablespoon vanilla extract

1 1/2 cups flour: all-purpose, whole wheat pastry, spelt (gluten-free—any GF flour, such as oat or brown rice flour)

¾ teaspoon baking powder

¾ teaspoon baking soda

½ teaspoon salt

1½ cups semisweet or bittersweet mini chocolate chips

½ chopped nuts, optional
Instructions
Preheat the oven to 375ºF.
Cream the eggs and sugar in a food processor or with an electric mixer until light and fluffy. Add the oil and vanilla and mix in thoroughly. Add the flour, baking powder, baking soda, and salt and pulse (or mix at low speed) until just combined. Fold in the chips and nuts (if using) with a spoon. Drop the cookies in heaping teaspoonfuls onto a cookie sheet lined with parchment paper, 1 inch apart. Flatten them with your hand.
Bake 10 minutes. The cookies will firm up as they cool, so do not be tempted to bake them longer, or they will harden. Bake only one tray at a time. Store at room temperature in tin boxes. Separate each layer of cookies with foil or wax paper so they don't stick together.