adapted from Levana Cooks, using Cocoa Coffee Levana Nourishments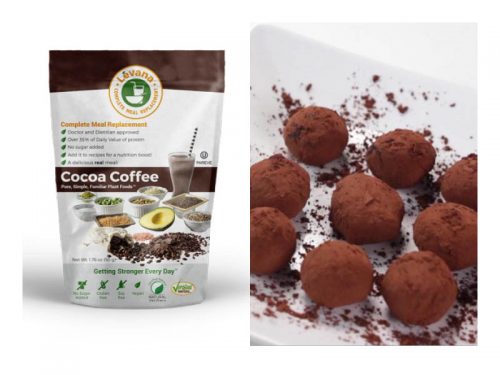 These Chocolate Truffles are nothing but trouble!
I think you can tell! They are a snap to make, dairy-free, luxurious, luscious. I am including all variations. I would walk miles for the Sea Salt Caramel Chocolate Truffles, my favorite. But trust me: All of them are worth making.
As always, use very good quality chocolate, for this and all chocolate treats. Why bother with anything else?
Chocolate truffles keep very well in the refrigerator
You might want to double or triple the recipe, then take them places: divide the mixture and add the flavor of your choice to each smaller batch. They freezer very well too. I often arrange them in pretty boxes, and store them directly in the freezer.
So, here comes! Told you they were trouble!
Ingredients
1 cup full-fat canned coconut milk

1/2 cup coconut oil

2 cups semisweet or bittersweet chopped chocolate, or chocolate chips, very good quality

1/4 cup pure cocoa powder

1/2 cup confectioners sugar (or powdered erythritol)
2 pouchesCocoa Coffee Levana Nourishments

Flavor of your choice (suggestions follow)

Cocoa powder for rolling the chocolate truffles
Instructions
In a small saucepan set on a low flame, place the coconut milk, oil, chocolate chips, cocoa powder, sugar, meal replacement and selected flavor. Whisk until the mixture is just melted, making sure it is perfectly smooth. Refrigerate the mixture until set, a couple hours. Handling minimally, shape into little balls (do not smooth: leave them a little bumpy, that is the trademark of truffles). Roll the truffles into cocoa powder. Keep refrigerated and tightly covered in plastic wrap until serving time.
Alternatively, roll the truffles in chocolate sauce (1 cup chocolate chips melted with 1 tablespoon oil), grated coconut or coarsely ground toasted nuts instead of cocoa powder.
Chocolate Truffle flavors.
The possibilities are endless, pretty soon you will add your own flavors to my repertoire! 
Sea Salt and Caramel: My great favorite.  A fancy sea salt will not be a waste here.  1 tablespoon sea salt and 1 tablespoon pure caramel extract (health food stores, or online. In a pinch, settle for Starbucks caramel syrup).
Espresso bourbon: 1 tablespoon instant espresso powder, decaf OK, and 1/4 cup bourbon. Reduce the milk to 1/4 cup.
Peppermint: a few drops peppermint extract (health food stores).
Nut: 1/2 cup coarsely chopped toasted hazelnuts or pecans to the mixture. Or place a toasted hazelnut in the center of each truffle.
Raspberry: 1/2 cup seedless raspberry jam and 1/4 cup Creme de Cassis; bring the cocoa powder to 2/3 cup, and reduce the milk to 1/4 cup.
Peanut butter: Replace the oil with 1/2 cup smooth peanut butter.
Spicy: Get racy!  Add one (just one!) of the following:  all ground: 1 tablespoon wasabi, 1 teaspoon matcha green tea powder, 1/4 teaspoon cayenne, 2 tablespoons cinnamon, 2 tablespoons ginger, 1 tablespoon cardamom, 2 tablespoons orange zest.