Levana Cooks
, with
Levana Nourishments Garden Vegetable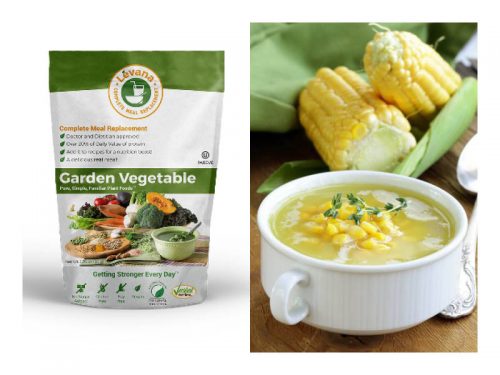 Corn chowder: What's in a name?
Chowder almost always signals the presence of potatoes, and a hearty creamy-chunky texture.
This soup has an added appeal: a lovely pale yellow color.
Try your best to make this corn chowder with fresh corn
It is at its most tender and most delicious in summer. Settle for frozen if you must, but absolutely no canned corn. I am sorry to say the finished dish (or anything) made with canned corn is worthless. This corn fanatic just can't bear the idea, sorry.

This corn chowder packs a great flavor punch, and needs no help from dairy ingredients.

But just in case you might want to splurge on an occasional dairy meal, throw in the optional freshly grated cheddar.

adapted from
Ingredients
⅓ cup olive oil

2 pouches Garden Vegetable Levana Nourishments

1 bunch dill, fronds and stems

3 cups fresh corn kernels, from about 4 ears corn (settle for frozen loose corn)

8 cups water

2 large potatoes, cut in small cubes

1 cup dry white wine (liquor stores. Skip if you can't have wine)

Pinch cayenne

Ground pepper to taste

3 cups milk or dairy-free milk

2/3 cup white miso paste

1 cup grated cheddar or vegan cheese, optional
Instructions
Bring the first set of ingredients to boil in a wide heavy bottom pot.
Reduce the flame to medium and cook covered for 30 minutes.
Whisk in the second set of ingredients, and bring the soup to just below boiling. Do not boil again, so as not to let the milk curdle.
With an immersion blender, directly in the pot, purée about a third of the soup, leaving the rest chunky. Adjust the texture and seasonings. Serve hot. Makes 8 servings.
VARIATIONS:
Tomato corn  chowder : add 3 cups canned crushed tomatoes; cook as above.
Corn fish chowder: Use either the basic corn chowder or the tomato corn chowder recipe; throw in about 2-4 cups small salmon cubes after puréeing the soup, and cook 10 more minutes. No optional cheddar.
Corn chicken chowder : Use the basic corn chowder recipe: throw in 3-4 cups diced chicken breasts after puréeing the soup, and cook 10 more minutes. No question of the cheddar here.