adapted from Levana Cooks, using Vanilla Bean Levana Nourishments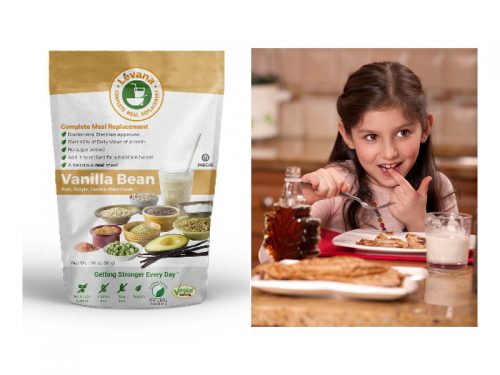 You say Pancakes, I say Crepes!
Jut one bite and you'll understand why these French crepes gems are so popular with children big and small!
How will we ever know how wonderful crêpes can be if all we've been doing so far is opening a commercial muffin mix box—and the worst part is, we haven't saved more than a minute or two on the whole thing— and missed out on a great treat, so was it worth it? Of course you know the answer, so I won't rub it in. My children grew up on crêpes—we just had to have them at least once a week. They are so much fun no one will ever know they are actually eating healthy food. There is only a small ratio principle to keep in mind for perfect, ethereal paper-thin crêpes: 4 eggs or egg substitute (see below), 2 cups flour, 2½ cups liquid. That's the whole thing. Play with this, and get different and exciting results each time. My granddaughter Musia (above) is always clamoring for them, and enjoys them egg-free.
Crêpes are a wonderful choice when you have company. (Only your kids? That's company, and of the best kind!) Make them while you are talking to your family or guests, and have a good time. You will be amazed at the great selection of flours you will find at health food stores. And the fillings are a terrific way to recycle leftover chicken or vegetables.
The crêpes mixture can be made even a couple days in advance.
Don't worry if the batter settles and starts looking somewhat unappealing—just give it a few more turns in the blender before using, and it will look and taste like new. If the mixture thickens while it sits, thin it with a little liquid.
Ingredients
Basic dessert crepe batter:

4 eggs (if you are egg-restricted, use 1 cup flax mixture: 1/4 cup ground flax mixed with 1 cup warm water)

2 cups flour, any flour, alone or in any combination: all purpose, whole wheat pastry, spelt, corn, quinoa, millet, chickpea, buckwheat, oat, etc.

3 cups cold liquid, alone or in any combination: seltzer, water, wine, milk, or dairy-free milk, low-fat OK

1 pouch Levana Nourishments Vanilla Bean

2 tablespoons vegetable oil
Instructions
Make the crêpes: Mix all ingredients in a blender until perfectly combined and smooth.
Spray a 9-inch nonstick skillet with cooking spray and let it get really hot. Pour just enough batter to coat the bottom of the pan (use a very small ladle or pour sparingly from a cup equipped with a spout, like a glass measuring cup or the blender itself). Start with the center of the skillet and swirl the batter in the pan all around to ensure that the bottom is very thinly and evenly coated. After a few seconds, the edges will start detaching from the bottom of the pan, and the top will look dry. Turn the crêpe over and cook for a few more seconds. Transfer to a plate and repeat with the remaining batter, spraying the pan each time. Use your favorite filling, and roll or fold the crêpe over it, or fold and use the filling as a topping. Eat hot. Makes a good dozen, enough for 4 servings.
Heat the oil in a pan. Add the onion and sauté until translucent. Lower the heat and add the flour. Cook 2 minutes, whisking until the flour gets a light brown color. Add the milk in a very slow stream, whisking constantly. The mixture will get thick in about a minute. Add spinach and remaining seasonings and cook 1 more minute.
VARIATIONS: Substitute Levana Nourishments Garden Vegetable or Mushroom Medley for Vanilla Bean in all savory fillings
Chicken filling: Substitute 2 cups cooked diced chicken for the spinach.
Vegetable filling: Use 2 cups sautéed mushrooms, onions, broccoli, pepper, zucchini, tomato, etc.
Cheese filling: I beg you, no store-bought, pre-grated, packaged cheese. Same calories, no taste. Rather, buy yourself a good-brand grater and grate from a chunk of cheese as you need it in just a few seconds. Grate some intensely flavored cheese such as Cheddar, Kashkaval, Swiss cheese, or Parmesan (you need much less of it than if you were using a milder-flavored cheese) on the finished crêpe before folding, and add a few grinds of black pepper.
Herb crêpes: Add your favorite herbs directly into your savory crêpe batter: chopped dill, oregano, parsley, thyme, chives, etc. If all you have on hand are dried herbs, go for it.
Buckwheat pancakes: use the basic crêpe batter, using all buttermilk and no other liquid, and all buckwheat flour. Their texture is a little thicker, and you will see tiny little holes forming all over the tops. You might want to make them tiny and use them for hors d'oeuvres, topped with caviar filling (below). In this case, fit 5 to 6 tiny pancakes at a time in the skillet.
Caviar filling: Fold the finished crêpe and top with a little plain yogurt and a good quality caviar or smoked salmon.
Jam filling: Spread some good-brand all-fruit jam on a finished dessert crêpe. All-fruit jams and preserves are fantastic: half the calories, double the taste, and all natural.
Nut butter filling: Spread your favorite nut butter or peanut butter chocolate spread on a finished dessert crêpe.
Apple filling: Use with dessert crêpes. Sauté some Granny Smith apple wedges in a little oil, and add some lemon zest, a little sugar and a little rum.