adapted from Levana Cooks, using Garden Vegetable Levana Nourishments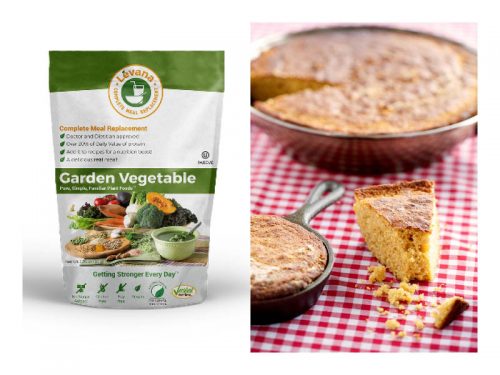 Cornbread is ready in a snap:
So nice to know we have options that are dairy-free, low-gluten, and gluten-free.
The secret of good cornbread is to stick your empty greased pan in the oven while you whip up the batter to get it really good and hot; this way the baking gets a huge head start as soon as the batter is poured, and the bread gets all those lovely trademark cracks all over.
Variations:
Corn lovers, you'll be mighty happy: I have included several easy and fabulous variations of the beloved basic recipe:
Ingredients
2 cups plain yogurt or buttermilk, low-fat OK (dairy-free: soy or coconut plain yogurt, or 2 cups soy milk mixed with 2 tablespoons lemon juice or vinegar)

2 eggs

1∕3 cup coconut oil or extra light olive oil

2 cups medium cornmeal (fine cornmeal if you like a smoother texture)

1 cup all-purpose, whole wheat pastry, or spelt flour (gluten-free: brown rice flour or any other GF flour)

1 pouch Levana Nourishments Garden Vegetable

2 teaspoons baking powder

2 teaspoons baking soda

1 teaspoon salt

1∕3 cup coconut sugar, or 1/4 cup stevia or truvia
Instructions
Preheat the oven to 425°F.
Grease a heavy 9- or 10-inch round (real, not disposable) pan and put it in the oven while you mix the bread. Mix the first set of ingredients in a bowl. In another bowl, mix the second set of ingredients thoroughly with a spoon. Pour the egg mixture into the flour mixture, and mix until just combined.
Immediately pour the mixture into the hot pan. Bake about 25 to 30 minutes, or until the top is cracked and golden. Serve warm or at room temperature.
Cornbread Variations:
Corn muffins: Grease a muffin pan and place in the oven while you prepare the batter. Proceed exactly as above. Bake 20 to 35 minutes.
Cheddar dill: No sugar. Throw in ½ cup minced dill and 1 cup grated cheddar.
Smoked salmon: No sugar and no salt. Throw in ½ cup shredded smoked salmon.
Tex-Mex: No sugar and no salt. Throw in 1 cup frozen corn kernels and add 1 cup grated Cheddar or Kashkaval, minced onion, 3–4 tablespoons chopped cilantro, 1 tablespoon cumin, 1–2 tablespoons bottled hot sauce.