adapted from Levana Cooks, using Garden Vegetable Levana Nourishments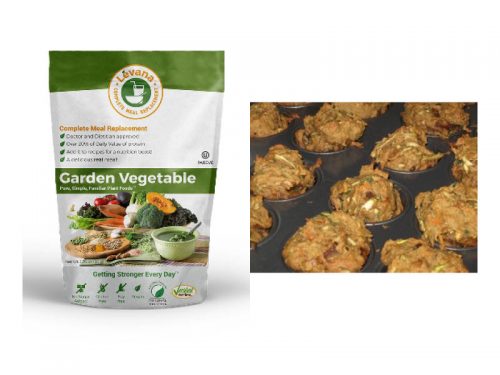 These savory muffins are the dream gluten-free bread roll.
Not only to my grandson, who already calls them "Bubbie Bread", but to all of you gluten-free diners who want their gluten-free bread and eat it too. My grandson recently became allergic to gluten,  and each time I watched with great sadness as he went from eating bread, his favorite food, all day long, to having it yanked off his hands as "booboo bread". This perennial tinkerer, doubling as loving Bubbie,  is exploring more than ever with gluten-free savory muffins and bread possibilities. This makes the perfect bread roll
There's plenty of room to explore with quality gluten-free flours.
Here I go all out with the wonderful gamut of flours, only the best: Oat flour is especially delicious and hearty; almond flour, coconut flour, rice flour, fine cornmeal etc….Whatever flour combination you end up with, be sure to include the tapioca, as it is a great emulsifier. As you can imagine, the end product made with these ingredients will leave commercial gluten-free bread products in the dust, loaded as they are with potato flour and other likewise worthless products (same goes for ready gluten-free flour mixes).
Attention fellow frequent Gluten-Free bakers friends:
Gluten-free flours can err on the expensive side in health food stores.
Explore online, and do as I do: Order 5-pound containers of any gluten-free flour at a much more reasonable price. You will do much better making your own Gluten-free bread flour mixture: Explore, mix and match with different gluten-free bread flours, taking good note as you go along, then when you arrive at the perfect keeper, make a large batch of your very own favorite delicious nutritious Gluten-Free Bread flour for future gluten-free  savory muffins and bread batches.
I will start with my pumpkin savory muffins
I am listing all variations. Makes 24 muffins, maybe a few more.
They freeze perfectly, and they disappear fast, so I am making a nice big batch, but of course no problem at all dividing the recipe!
Ingredients
6 cups gluten-free flour (I used equal part almond flour, coconut flour, fine cornmeal, but of course you can explore with other flours)

2 cups rolled oats (make sure they are marked Gluten-Free, in other words, that they were not processed in machinery processing regular grains)

1/2 cup Tapioca flour

2 pouches Levana Nourishments Garden Vegetable

1 teaspoon salt

2/3 cup nutritional yeast

1 teaspoon dry sage
4 eggs

3 1/2 cups canned all-natural pumpkin (about 2 15 ounce cans)

1/3 cup coconut sugar, or 1/4 cup stevia or truvia

1 cup olive oil or coconut oil

1 1/2 cups dairy-free milk (almond, soy, rice, oat etc) or regular milk
Instructions
Preheat the oven to 325 degrees F.
Mix the first set of ingredients thoroughly in a mixing bowl. Mix the second set of ingredients thoroughly in a second bowl. Mix both mixtures with a spoon, mixing only until combined (not longer or the mixture might get tough). Pour the batter in a greased muffin tin, filling up the molds more than you would would regular muffin batter, as these will rise much less.
Bake the muffins 30 minutes, or a little longer, until a knife inserted in the center of a muffin comes out clean.
Savory Muffins Variations:
Always use the basic gluten-free savory muffin recipe above, and take it places, replacing the pumpkin with:

3 cups packed grated zucchini (in this case substitute 1-2 teaspoons oregano or basil for the sage)
3 cups packed grated carrot or sweet potato (in this case use substitute 1 tablespoon cinnamon and a good pinch cayenne for the sage)
3 cups frozen thawed and squeezed dry chopped spinach (just to be clear, 1 cup is the amount after it is squeezed dry), a handful sliced sun-dried tomatoes and a handful sliced olives (in this case substitute rosemary, minced fresh garlic, ground bay leaf,  ground pepper etc to taste for the sage)
Play with your own fillings and seasonings, always using the basic recipe as your guide, and get exciting results each time: Great when you have some good leftover stuff you want to use up to best advantage: Feta or grated cheddar cheese, grated green apple, spinach leaves, finely chopped kale, grated celery root, minced artichoke hearts, minced cauliflower or broccoli, minced roasted peppers, minced smoked turkey , minced smoked salmon etc....