adapted from Levana Cooks, using Garden Vegetable Levana Nourishments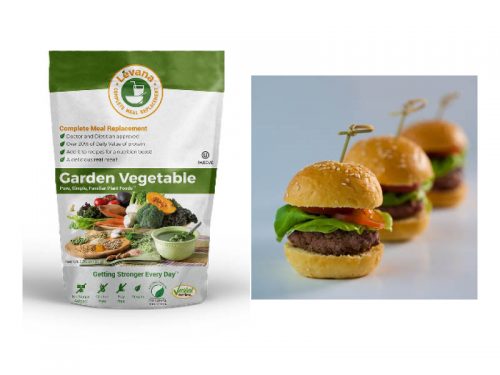 Hamburgers are a perennial favorite.
You can make your own hamburgers, right at home, in minutes.
Please don't get impatient:
There is simply no recipe for delicious and healthy hamburgers.
Boom. Boom. Done.
But there sure are lots of good tips for turning out perfect burgers each time.
Use lean meat please! You'll get much more flavor, plus you will have room for toppings and condiments.
Make your hamburgers with any meat you like, and get exciting different burgers each time: beef, turkey, lamb I adore lamb burgers), chicken, tuna, salmon. Even Bean Burgers and Veggie Burgers!

Rule of Thumb: For every pound of burger mixture, add 1 pouch of Levana Nourishments Garden Vegetable or Levana Nourishments Mushroom Medley

I'll bet you think you can't get good hamburgers unless you fire a grill! We backyard-less and grill-less city dwellers enjoy delicious hamburgers all the time. Of course if would be great to have the outdoors space and the grill and the fun, but we must work with what we have!
Get yourself a good wide nonstick skillet. Forget about the pre-shaped burgers you will find at your butcher's store, that save you a few seconds but ruin your burgers. Heat your skillet till it's real good and hot. Shape your burgers nice and thick, absolutely nothing added (one exception: the Sephardi-style spicy meatballs and burgers, which include lots of nice spices and minced herbs, but don't get any added toppings or condiments), place them in your skillet, and cook them about 2-3 minutes on each side for medium rare, a drop more for medium, but please don't overcook your burgers or they won't be good and juicy!
Get yourself a good quality whole grain hamburger buns. Gluten-free buns are  available too, in health food stores. Toast them if you like.
Now play with your toppings, anything you like: Ketchup, bottled hot sauce, thinly sliced onions, fried onions, cocktail sauce, sliced pastrami, grilled portobello, sliced tomatoes, good pickles, lettuce leaves. Hey can I interest you in Chipotle sauce? Nothing to it! Mix in a food processor: 2 canned chipotle peppers, with 2 tablespoons of the liquid, 1/2 cup ketchup, 4 large cloves garlic, 6 sprigs cilantro, Salt to taste.
Open wide: you are in for a treat!

Burgers Sans Bun: Hey what's wrong with that?

We grew up eating burgers all the time, but not in a bun. Just them burgers with lots of chopped salad. Delicious! Lower Cal Lower Carbs! "Affordable"!