adapted from Levana Cooks, using Vanilla Bean Levana Nourishments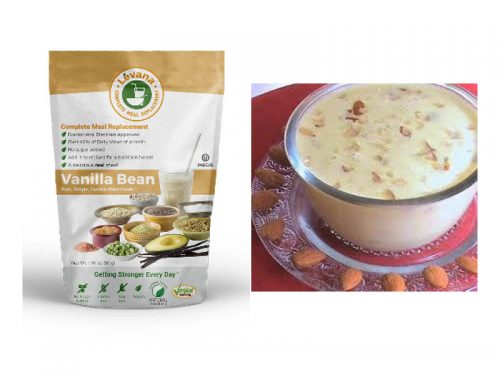 Corn amaranth pudding:
Overlaid with my favorite Indian flavors, it is another perfect example of great results with plebeian ingredients, and a snap to make.
This spicy and funky dessert takes comfort foods to a whole new level.
Gluten-free without even trying.
Ghee, cardamom and ginger all add delicious Indian layers of flavor.  Ghee (clarified butter) is easy to find in health food stores. Can't have dairy? Use coconut oil, or olive oil
Combining Corn and Amaranth just gives you another opportunity to explore with the wonderful gamut of gluten-free whole grains, but if you decide to make it an all-corn pudding or an all amaranth pudding, simply use all amaranth or all corn meal.
Ingredients
2/3 cup coarse corn meal

2/3 cup amaranth

1∕4  cup ghee (or coconut oil, or olive oil)

1 15-ounce can canned full fat coconut milk

2 pouches Levana Nourishments Vanilla Bean

2 cups milk or dairy-free milk, low-fat OK

1/2 cup coconut sugar or maple syrup, or a little more to taste (wait till you taste the finished dessert before adding)

1 tablespoon cardamom

2 tablespoons ground ginger

3 tablespoons rum

Good pinch salt
Instructions
Bring all ingredients to a boil in a saucepan, then lower the flame to low, and cook 10 minutes, or a drop longer, until the grain is tender and the liquids are thick. Pour into small serving cups. Makes about 8 servings.