adapted from Levana Cooks, using Mushroom Medley Levana Nourishments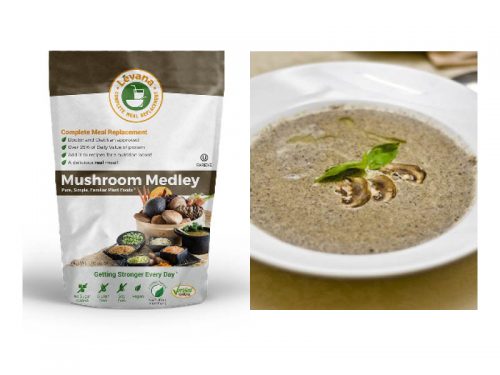 Potato Portobello Soup:
A sort of a new age Vichyssoise, delicious hot or chilled.
I like to keep my soups meatless at all costs (unless of course the meat or poultry is the star, as in beef soup or chicken soup). So all my soups are vegetarian and water-based, and I am told – forgive the swagger – delicious. with this flavor lineup, you will never miss the meat, and you are starting out with a pouch of the magic potion!
I am the water soup girl, and mighty proud of it!
I simply never discuss stock or broth. Great ingredients plus water as "stock" guarantee a great soup each time!
Ingredients
1/3 cup olive oil

1 pound Portobello mushrooms, diced

2 pouches Levana Nourishments Mushroom Medley

1 cup dry sherry or sake (liquor stores)

8 cups water

3 large Yukon potatoes, cut into large chunks (limiting carbs? use celery root, turnips, parsnips, yellow zucchini  etc)

6 sprigs thyme, leaves only

4 bay leaves, or 1/2 teaspoon ground

1 cup white miso paste

4 cups milk or dairy-free milk (soy, rice, almond, oat etc), low-fat OK

Good pinch nutmeg

Ground pepper to taste
Instructions
Heat the oil in a wide heavy pot, and add the portobello. Sauté until all liquids evaporate. Mix in the sherry, water, potatoes, thyme, saffron and bay leaves, and bring to a boil. Reduce to medium and cook, covered, 30 minutes. Add the miso, milk, nutmeg and pepper and heat through, another 3-4 minutes. Cream with an immersion blender. Adjust the texture and seasonings. Stir in the reserved portobello mixture. Delicious hot or chilled.