adapted from Levana Cooks, with Garden Vegetable Levana Nourishments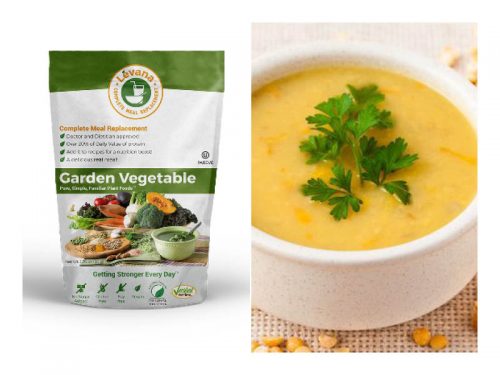 This split pea soup is a model of Moroccan food simplicity.
Another soup that costs pennies, takes minutes, and tastes like a million bucks!
My Moroccan Split Pea Soup is vegetarian without even trying
But you could never tell: it is so much richer than the sum of its plebeian parts!
Listen to what my friend Chaya Minna (Helen) Schwimmer wrote me about the soup: "Moroccan split pea soup is the new Jewish penicillin! I have been cooking chicken soup for my family for almost forty years, but it has been displaced by your Moroccan split pea soup. We all love it, from our three-year-old granddaughter to her grandfather and everyone in between. When I brought a serving over to a neighbor who was ill and she found that it was the only food she could tolerate, I gladly made her a batch each week. It is definitely the new chicken soup in our house!"
Ingredients
2 large onions, quartered

3 large carrots, cut in large chunks

2 pouches Levana Nourishments Garden Vegetable

1 pound bag green or yellow split peas, picked over and rinsed

1 large bunch flat parsley, stems and leaves

1 bunch cilantro, stems cut off (skip if you don't like cilantro)

1/3 cup olive oil

1 teaspoon turmeric

8 cups water

Salt to taste

Pepper to taste
Instructions
Put all but last ingredient to boil in a wide heavy pot. Reduce the heat to medium and cook, covered, about 1 hour. Add pepper to taste. Cream with an immersion blender. Adjust texture and seasonings.
Makes 8 servings