adapted from Levana Cooks, using Garden Vegetable Levana Nourishments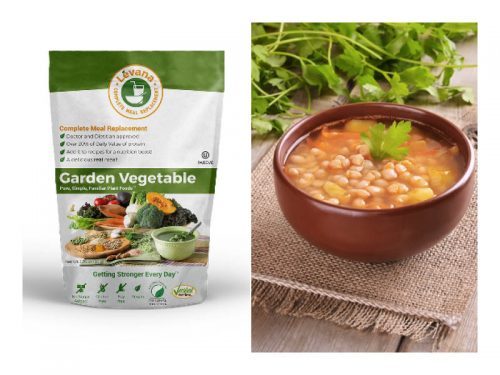 Moroccan Bean Soup:
Another delicious way to showcase our wonderful all-natural, all-vegetarian and inexpensive Moroccan soups.
The beans dissolve partially in the soup during cooking, making it at once  creamy and chunky, giving it its rustic look and hearty texture. Any good quality beans will do.
This delicious bean soup is inexpensive and ready in a jiffy. No problem making it with other types of white beans (lima, canellini, great Northern etc)
Please use good quality natural canned beans.
It makes all the difference! All you need to do is read the labels, to make sure no unwanted junky ingredients lurk in your food
Ingredients
1/3 cup olive oil

8 cups water

4 cups canned white beans

3 cups canned crushed tomatoes

2 pouches Garden Vegetable Levana Nourishments

2 tablespoons paprika

A good pinch red pepper flakes, or a little more to taste to taste

Salt to taste

2 tablespoons ground cumin

Zest of 1 lemon
1 bunch flat parsley

1 small bunch cilantro, tough ends discarded
Instructions
Bring the first set ingredients to boil in a wide bottom pot. Reduce the flame to medium, and cook 30 minutes.
In a food processor, finely grind the second set of ingredients.
Stir the ground mixture into the soup, cook another 10 minutes. Adjust the texture and seasonings.
Makes 8 servings.