adapted from Levana Cooks, using Garden Vegetable Levana Nourishments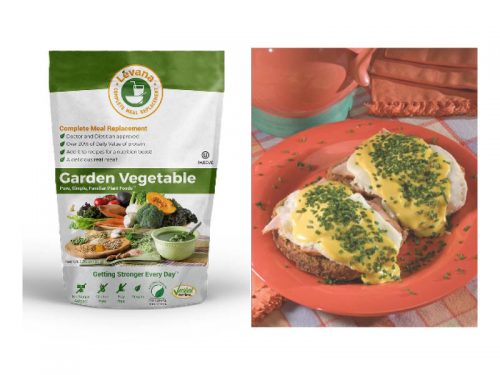 Vegan Hollandaise Sauce:
I am often told mine feels like a delicious blast from the past for all diners who cannot enjoy dairy products any more, as well as those trying to restrict their egg intake.
Gluten-Free to boot, without even trying! In one fell swoop, here is all my Vegan Hollandaise Sauce accomplishes:
It tastes fabulous. As close as humanly possible to the original Classical Hollandaise Sauce counterpart.
It is all natural.
It is whipped up in a minute.
It is missing only that stuff we want in minute amounts or sometimes not at all: Egg yolks and cream.
It is raw: None of the slavery associated with the making of traditional Hollandaise Sauce (double boiling, whisking, risk of curdling and whatnot. Please.)
Perfect example of where to use my Vegan Hollandaise Sauce:
Eggs Benedict. Eggs Benedict are a great brunch classic favorite, verboten both for our dairy-intolerant friends and for everyone who keeps kosher and can't combine dairy and meat products in one meal, let alone in one dish. The classic Hollandaise Sauce is the savory counterpart of the equally rich and seductive Creme Brulee (Sigh. Another Parsha. For another day). People always tell me that Eggs Benedict are a wonderful splurge. As a nutrition purist, I decided to tinker with my own dairy-free, kosher-friendly, and best of all, lean and quick guidelines in mind.
With my Vegan Hollandaise Sauce, I turned the off-limits Eggs Benedict dish into a Natural Dairy-Free and Kosher treat you can actually afford to eat and enjoy quite often.
Just in passing, Kudos to smoked turkey breast, which can always be counted on for replacing ham and all smoked pork products, which is great news not just for Kosher diners, but for all diners eschewing pork products: Halal diners and many others, you'll be pleasantly surprised! It has become increasingly easy to procure all-natural no-nitrates smoked turkey products, do look for them! Scroll down for my Eggs Benedict Recipe made with my Vegan Hollandaise Sauce!
What else can you do with my Vegan Hollandaise Sauce?
Plenty! Use it on asparagus, on poached chicken breasts, on baked or poached fish,  or as a dip with a little added curry powder, to name just a few treats. No one will ever know they are eating something that is so good for them! Never mind what the heavy-cream- egg-yolks Hollandaise Sauce aficionados will say: My All-Natural Raw Vegan Hollandaise Sauce works, and that's what counts! A friend of mine, who has just undergone heart surgery, told me how delighted he was to be reunited with this great favorite food of his. Talk about going to one's heart through one's stomach!
Dairy-free yogurt. While it is not, in my opinion, good enough to eat plain (sorry!), it lends itself to many wonderful combinations and takes on the other great flavors it is paired with. I think you will be as amazed as I am! You will easily find soy or coconut yogurt in health food stores.
Eggs Benny: The lox version.
This variation uses smoked salmon instead of smoked turkey. No problem making the sauce with dairy yogurt if dairy is not problem to you.
Ingredients
Ingredients:
Makes 1 1/2 cups Vegan Hollandaise Sauce
1 cup unflavored soy or coconut yogurt

1/4 cup Dijon style mustard

1/3 cup coconut or olive oil

1 teaspoon turmeric

Good pinch nutmeg

Good pinch cayenne

Salt and white pepper to taste
Instructions:
Whisk all the ingredients until smooth, by hand or in a blender or food processor. Store refrigerated in a glass jar. It will keep for a good week to ten days
To make Eggs Benedict using my Vegan Hollandaise Sauce:
Ingredients:
2 tablespoons olive oil

8 eggs

8 slices good whole grain bread, Gluten-Free OK

16 thin slices natural no-nitrates smoked turkey breast (smoked salmon if you would rather keep the dish meatless)

1/2 cup Vegan Hollandaise Sauce

1/4 cup thinly sliced chives
Instructions
Heat the oil in a large skillet. Add the eggs gently and at a little distance from one another. Cook them 2-3 minutes on a medium flame, until barely set.
To assemble: Place 2 slices bread in each of 4 plates. Top each slice of bread with 2 slices smoked turkey or salmon. Top with 1 egg. Top with the sauce. Sprinkle with the chives. Serve while the eggs are hot.