adapted from Levana Cooks, using Garden Vegetable Levana Nourishments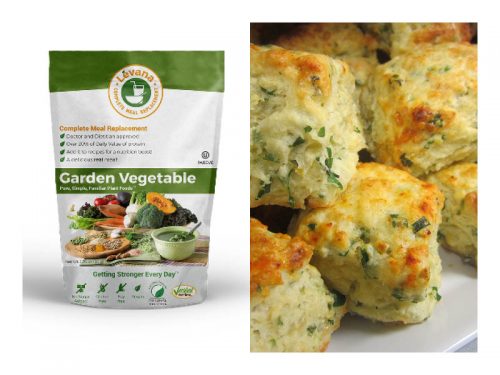 Vegetable scones are ideally easy to make, hearty and delicious.
And not just for breakfast, but also like a mini meal. You can make them at the drop of a hat, and they are quite close to bread and quick bread, and every bit as satisfying. Vegetable scones – interchangeable with vegetable biscuits – also pack a great nutritional punch, and do not include eggs to begin with: the ideal vegan breakfast treat.
Although you can make these vegetable scones with regular flour (in this case, simply use 3 1/2 cups regular flour total), I just love the idea that they are so easy to make the gluten-free way, and that they can be made with a wonderful selection of flours: No potato starch if I can help it, and help it I can!
Feel free to explore with other gluten-free flours, just as long as you total 3 1/2 cups flour, including the tapioca: Rice flour, chick pea flour, quinoa flour, etc…
I am on a kick tinkering with sorghum flour.
I love sorghum for the gritty texture it imparts to baked goods, especially if, as here, you include that little bit of vinegar for good volume.
Be sure not to forgo the nutritional yeast, this is what will give your "Un-cheesy" vegetable scones that cheesy je ne sais quoi in the flavor.
Ingredients
1 cup each: Sorghum flour, oat flour, corn flour

2 pouches Garden Vegetable Levana Nourishments

1/2 cup tapioca flour

1/3 cup olive oil or coconut oil

Good pinch salt

1/2 cup nutritional yeast (health food stores)

1 tablespoon baking powder
2 cups dairy-free milk (any DF milk of your choice: Coconut, soy, rice, etc)

2 tablespoons unfiltered cider vinegar

1 cup mixed finely chopped vegetables, in any combination, any selection of 3-4 choices: Parsley, cilantro, dill, basil, kale, scallions, carrot, sweet potato

Salt and pepper to taste

Pinch cayenne

1 teaspoon oregano
Instructions
Preheat the oven to 425 degrees F.
Cut the flours with the oil, salt, nutritional yeast and baking powder, with your fingers or with a pastry cutter, until the mixture is the texture of coarse meal. Add the milk, vinegar, vegetables and seasonings and mix with your hands, briefly but thoroughly. Roll out the dough evenly, about 1/2 inch thick (not thinner). Cut out 3 inch circles with a large rim glass or a cookie cutter. Arrange the cut out scones on a baking sheet lined with foil or parchment, an inch apart. You will get about 16 vegetable scones total. Bake about 10 minutes, until the vegetable scones puff up and look dry on top.
The vegetable scones freeze very well. Reheat at low temperature until thawed, about 15-20 minutes.