adapted from Levana Cooks, using Garden Vegetable Levana Nourishments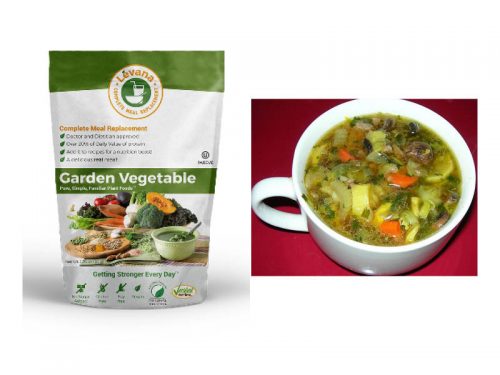 Vegetable chicken soup is synonymous with childhood memories for me.
We grew up eating it once a week. With the addition of a good whole grain bread, this is a complete meal: in contrast to the traditional clear chicken soup, nothing gets discarded. In short, it's the perfect comfort food!
Be sure to use chicken thighs here, skin, bones and all.
That's how you get the wonderful gelatinous texture that forms in the soup and makes it so pleasant.
Do you happen to have lots of leftover turkey bones and scraps, as you often do after a Thanksgiving Dinner? That's great! Place them all in a giant cheesecloth bag, and close the bag tightly. Then when the soup is done,  squeeze out as much liquids as you can from the cheesecloth bag (don't open it!) before discarding. You will be left with a turkey chicken soup chock-full of vegetables.
For best presentation, I like to dice my veggies. But sometimes you might find you don't have time for all that dicing. In that case, I have just the solution for you: Just do as I do most of the time: Shred all the vegetables in a food processor! Your vegetable chicken soup will be every bit as delicious.
Hint: Kids love this soup! Just sayin'! Just help them take out the chicken skin and bones.
Ingredients
1 large carrot

1 large sweet potato

1 large parsnip

1 large zucchini

12 cups water

2 pouches Levana Nourishments Garden Vegetable

8 chicken thighs, skin and all

2 teaspoons turmeric

Salt to taste
Instructions
Grate all vegetables in a food processor. However if you have a little more time and you are in a more patient mood, spend an extra few minutes and dice them.
Bring all ingredients to a boil. Reduce the flame to medium, and cook covered 1 hour. Adjust texture and seasonings. Makes 8 servings.