adapted from Levana Cooks, using Vanilla Bean Levana Nourishments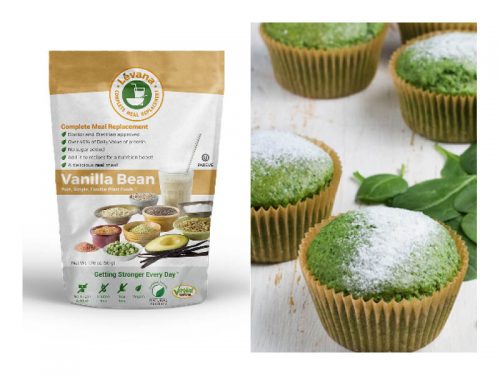 Kale muffins for dessert?
Huh? Did I just say that? Am I losing it or something? Nonono!
Repeat: Kale muffins for dessert!
Thank you for listening! My last (this) tinkering was a triumph! Seriously, think about it: Carrot cake, pumpkin cake, sweet potato cookies, rice cakes …. Why can't kale muffins be next? This is real food, so go ahead and splurge, and hide them well from the kids, they might just wipe them out, and you might end up with a fantastic problem. Funky, nourishing and delicious: I have already tried my kale muffins on some kids: Not only did they love'em, but they got an added kick from the green color. I think I will make a batch for my grandchildren this Shabbos. And as always when I tinker with outrageous stuff, I'm not saying the K word till after dessert: You'll create a sensation! by the way you can make them with baby spinach leaves too.
Who knew kale could be so delicious, in addition to being so nutritious? Read this link on Kale, from wellbeingsecrets.com, which gives you the whole scoop on kale, complete with delicious kale-based, dishes, three of them mine!
You'll be amazed how elastic this recipe for kale muffins is.
This holds true for both and sweet and savory treats: Kale and apples are a great pairing, but take a look at all the variations at the bottom of the recipe.
Ingredients
4 cups baby kale leaves, loosely packed

3 granny smith apples, quartered

3 eggs

3/4 cup coconut sugar, or 1/2 cup coconut sugar and 1/4 cup stevia or truvia

1/2 cup coconut oil or extra light olive oil

2 teaspoons baking soda

½ teaspoon salt

1 tablespoon cinnamon

2 cups flour (all purpose, whole wheat pastry or spelt)

2 pouches Levana Nourishments Vanilla Bean

1/2 cup golden raisins

½ cup chopped nuts or seeds
Instructions
Preheat the oven to 350 degrees.
In a food processor, using the pulse button, process the kale and apples until finely chopped. Set aside.
Mix the eggs, oil, soda, salt and cinnamon by hand until thoroughly combined. Add the flour and Nourishments, and combine again. Fold in the reserved chopped apple-kale mixture, the raisins and the nuts.
Pour the batter into 11/2 dozen muffin molds. Bake 45 mn, or a little longer, until a knife inserted in the center comes out clean.
Variations:
Kale Pumpkin Muffins: Replace the apples with 2 cups canned pumpkin (not pumpkin pie mix), or 2 medium carrots or zucchini
Gluten-Free Muffins: Use Gluten-Free flour, in equal parts, and add 1 teaspoon xanthum gum (health food stores)
Replace the raisins with dried cranberries or other dried fruit, chopped
Savory muffins: With any of the variations above. In this case, just 3 tablespoons sugar, and no raisins, cinnamon or nuts. Add 1-2 cups of any of the following: frozen corn kernels, grated parmesan or other strong cheese, saute mushrooms etc... Likewise, spice it up any way you like, with oregano, red pepper flakes, cumin, etc...
Vegan Muffins: Egg-Free: skip the eggs. Use instead 1/4 cup ground flax seeds (also called flax meal, health food stores) mixed with 2/3 warm water