adapted from Levana Cooks, using Vanilla Bean Levana Nourishments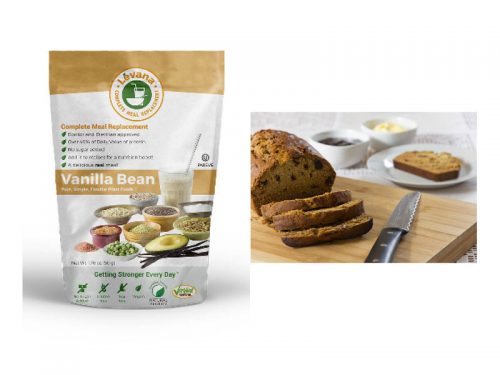 This date nut bread sounds too good-for-you to be good-good, doesn't it?
But wait till you taste it: Plump and moist and chock-full of good-for-you goodies. Plus, this is a quick bread, meaning, no yeast and no kneading. It rises with baking powder and baking soda, so you might decide to make it at the drop of a hat.
I make my date nut bread with spelt flour too, so it's a win-win.
In my latest cookbook, all sugars and sweeteners are "under investigation" in each of the book's recipes. So, whenever possible (which turns out to be quite often, I am pleased to report!) I use natural sweeteners. But here is the beautiful thing:
This date nut bread gets naturally sweetened with dried fruit and nothing else!
If you love dried figs or apricots, as I do, you can substitute them for, or use them in combination with, the dates.
Great for breakfast too, as is or toasted, alone or topped with a little nut butter or butter.
Ingredients
1 cup diced dates, packed (or dried figs or apricots, or in combination)

1 cup dark or golden raisins

2 cups flour, all purpose, whole wheat pastry or spelt (Gluten-Free: GF flour OK, but make the recipe into muffins)

1/2 cup chopped walnuts, almonds or pecans

2 pouches Levana Nourishments Vanilla Bean

1 teaspoon baking soda

1 teaspoon baking powder

1 tablespoon cinnamon

1/2 teaspoon salt
2/3 cup coconut oil or extra light olive oil

3 eggs

1 cup hot strong tea, decaf ok (I love to use Earl Grey)
Instructions
Preheat the oven to 350 degrees.
Mix the first set of ingredients together in a bowl. Mix the second set of ingredients in another bowl. Combine both mixtures, making sure not to overmix. Pour into a greased 9x13 pan, or 6-cup loaf pan, and bake 1 hour, or until a knife inserted in the center comes out clean.
Muffins: Pour the batter into greased muffin molds (about 12 medium) and bake about 30 minutes.
Chocolate Variation:
Use Levana Nourishments Cocoa-Coffee, and add 1/2 cup bittersweet or semisweet mini chocolate chips. and substitute hot strong coffee (decaf OK) for the tea.