adapted from Levana Cooks, using Garden Vegetable Levana Nourishments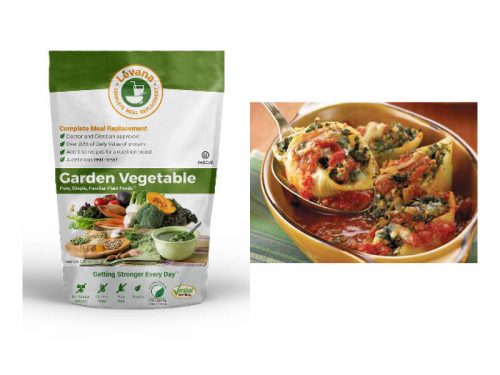 Lasagna Shells are my perfect lazy lasagna!
I swore off slaving on layered lasagna some years ago, after a lasagna I made with my grandchildren grew a little too high and took forever to cook. Oh, and made a big mess.
Seriously, I find making lasagna too time consuming, but I love the dish.
So, lasagna shells to the rescue: same ingredients, same great taste, and no layering!
Stuffing the shells takes no time flat. And they cook in a fraction of the time lasagna takes.
Enjoy some now, and freeze the rest!
The recipe I am giving you here is beyond simple. Just mix, stuff, bake and enjoy.  All the wonderful flavors are in!
No problem making vegan lasagna shells:
Substitute vegan cheese, sour cream, nutritional yeast etc for the feta and ricotta.
I would love to find some gluten-free jumbo shells, for our gluten-free friends. I'll keep looking:-)
Ingredients
2 pouches Levana Nourishments Garden Vegetable

1 cup ricotta cheese

8 ounces feta cheese, crumbled (or other cheese, grated)

1 pound frozen chopped spinach, defrosted and squeezed dry

a dozen jumbo pasta shells, boiled until just al dente and drained

3 cups store-bought marinara or other pasta sauce, any all-natural brand you like.
Instructions
Preheat the oven to 375*F
Mix the Nourishments, ricotta, cheese and spinach thoroughly in a bowl.
Stuff the shells with the mixture.
Place the shells on a baking pan with the open side up, and pour marinara sauce all over.
Bake about 20 minutes.
Makes a good 16 shells. Allow two shells per guest.