adapted from Levana Cooks, with Garden Vegetable Levana Nourishments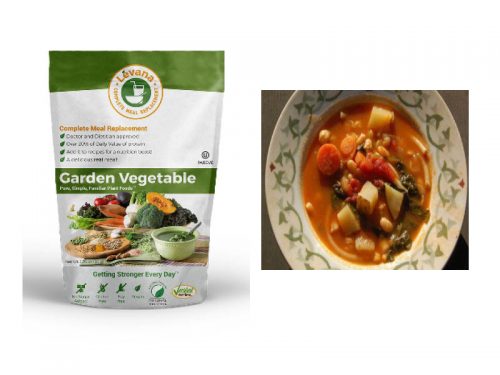 My Quick Minestrone tastes as if you had slaved on it!
I trust you should have no trouble whatsoever finding dozens of delicious minestrone recipes, made the loving unhurried way. My idea for this quick and incredibly satisfying version of the classic was: How can I play with the same ingredients and still get a great minestrone in a fraction of the time, and as always, all natural? The answer is:
Frozen vegetables are the best!
The fabulous selection of unprocessed frozen vegetables available in supermarkets, and dry herbs (although if you do have fresh basil, it would be really nice) makes for a wonderful soup.
This soup requires no prep work at all.
Please note the optional grains I have suggested cook quickly and need no soaking, to keep up with the brief cooking time of the soup.
Ingredients
8 cups water

2 pouches Garden Vegetable Levana Nourishments

2 pounds of any frozen cut vegetables: Short and sweet selection: cauliflower, broccoli, string beans, zucchini, turnips, onions, corn, peas, carrots, okra, spinach, kale, lima beans, edemame, pidgeon peas, etc….

1/2 cup of steel cut oats, red lentils, barley or spelt flakes, or 1 1/2 cups canned beans

1/3 cup olive oil

Salt and pepper to taste

Good pinch red pepper flakes

3 cups canned crushed tomatoes

1 teaspoon turmeric

2 tablespoons paprika

1 tablespoon dry basil
Instructions
Bring all ingredients to a boil in a wide heavy pot. Reduce to medium and cook, covered, about 30 minutes. Adjust consistency and seasonings before serving. Makes 8 servings.