adapted from Levana Cooks, using Vanilla Bean Levana Nourishments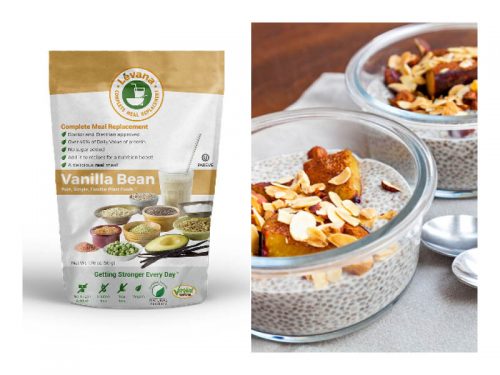 My raw almond pudding is my brand new star.
With this delightful raw almond pudding I am proudly expanding my Low Carb Treat Repertoire  This new dessert is the result of much tinkering, not only in honor of some severely sugar-restricted friends who want their dessert and eat it too, but for us omnivores! This almond pudding has everything going for it: low carb (very-low-to-no-carb if you use stevia);  it is so nutritious it is equally at home whether you enjoy it as dessert or as breakfast; 100% raw, no cooking; vegan; the chia seeds are a superfood; a snap to make. What more could anyone wish for in a dessert? Even those of us who can't have nuts can forgo the almonds and replace the almond milk with another no-nut milk.
I love to use almond milk, I find some excellent choices in health food stores or better supermarket.
All brands marked unsweetened are low in calories, ranging from just 30 to 45 calories per 1-cup serving. Play with different brands and see which one you like best. Likewise, use whole milk or full fat coconut milk if you are looking to maximize the caloric content.
Ingredients
2 cups almond milk or milk alternative

1/4 cup chia seeds

1 cup ground finely ground unblanched almonds

2 pouches Levana Nourishments Vanilla Bean

1 cup canned full fat coconut milk

1 cup cranberries, fresh or frozen (not dried and sweetened), coarsely chopped in a food processor

1/4 cup coconut oil (if it is not liquid, microwave it for just 30 seconds to liquefy it, so it distributes evenly).  Olive oil OK.

2/3 cup maple syrup (Sugar-restricted: use 1/2 cup stevia or truvia)

2 teaspoons ground cardamom

1 tablespoon orange zest
Instructions
Mix all ingredients thoroughly in a bowl. Pour the mixture into 8 dessert cups. Keep it chilled until serving time. If you pour it into small Mason jars with lids, it will keep perfectly in the refrigerator a good few days. The mixture will thicken as it chills.
Almond Pudding Variations. 
Flavorings: for my dessert I picked cardamom and orange zest, to give it a distinct Sephardi flair, but of course you will enjoy playing with other flavorings and extracts (only the real thing please!) and get a new exciting variety each time: cinnamon, ginger, cloves, rum, cassis, anise, caramel, etc....
Apple: No cranberries. 2 unpeeled grated granny smith apples (rum and cinnamon will go best with this variation)
Chocolate: No fruit, no spices and no orange. 1/3 cup pure cocoa, 1 tablespoon instant coffee powder, 2 tablespoons rum. Microwave these three ingredients with the coconut oil until the mixture is smooth before adding to the rest of the ingredients. Increase the maple syrup to 3/4 cup, or the stevia to 1/2 cup.
Lemon: Basic recipe. No fruit. Increase the sweeteners exactly as for the chocolate variation above. Add the juice and grated peel of a lemon.
Explore with other kind of nuts, or no nuts at all if you are restricted.