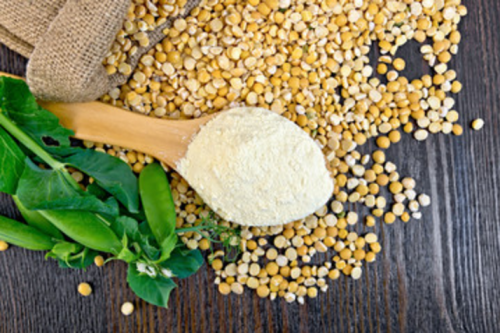 Pea Protein, like hemp protein, soy and whey protein, have justifiably become more popular as dietary supplements in the past few years due to their high nutritional content.
Pea protein, in particular, is sought after in wellness and fitness circles because it's a vegan-friendly way to increase protein intake. In 2016, the global pea protein market reached $24.8 million, and it is expected to reach $45 million by 2022. [1]
But what exactly is pea protein? Pea protein is made from extracting the protein from yellow split peas. Yellow peas are a milder flavored cousin to the sweeter green pea. One cup of split peas contains a healthy amount of protein, fiber, and vitamins, including Vitamin K and manganese.[2] Peas (also known as legumes) are low fat and cholesterol-free, too.
And that's not the only reason pea protein is a nutritional star. Here are a few other benefits of pea protein:
It's allergen-friendly. Since pea protein is plant-derived, it doesn't contain casein, the protein in cow's milk that can cause gastrointestinal issues for those with lactose intolerance. It's also gluten-free. Believe it or not, manufacturers often add gluten to many protein powders.
It delays fatigue during exercising. Pea protein contains the same amount of branched chain amino acids (BCAAs) found in milk and eggs. BCAA's delay fatigue during exercising.
It aids in weight loss. Since proteins take a lot of energy to digest, you burn more calories after eating a high protein meal.
It's heart and kidney healthy. In a 2009 Canadian study, they found pea protein to lower high blood pressure and chronic kidney disease.[3]
Pea Protein is also delicious as an ingredient in cooking. For instance, sprinkle it in a soup or add it to oatmeal or a casserole. Use it in your favorite green smoothie. Try it in homemade energy bars or other baked goods. Levana Nourishments makes it easier for you to add additional pea protein to your diet by including it in all five of our different flavor Nourishments pouches. We like to make sure you're getting all the protein and other nutrients you need in whatever you're eating.
By: Andrea Sperling
[1] https://www.mordorintelligence.com/industry-reports/global-pea-protein-market-industry
[2] http://www.whfoods.com/genpage.php?tname=foodspice&dbid=55
[3] http://www.medicalnewstoday.com/articles/143262.php