Quick Healthy Kids Meals
I find it fascinating that so many of us have been forever running busy and active households, yet we are always asking the perennial question:
What should I make for dinner tonight?
As if we hadn't made dinner every night on a million nights. I often wonder if the question stems from a feeling of dissatisfaction or frustration: I suspect it might be a generic and benign way of asking ourselves the more probing and inconvenient questions:
Am I feeding the kids in as healthy a way as I can?
How can I turn them on to more homemade meals?
How can I make quick healthy kids meals on a regular basis?
But my kids are so picky, how will they ever eat THIS?
The deterrent to cooking from scratch is, in my opinion, something you might not like to hear, and it is two-fold:
1. Homemade meals are too time consuming
2. Homemade meals are too expensive
This misguided perception of homemade meals may well be the single most fatal mistake we make in our eating habits. This is what pushes so many us inexorably towards so-called convenience foods. Picture this: Poor kids, going from fast foods at school lunch to fast foods at home dinner! Oy I have to cut, peel, dice, cook, clean. Sounds familiar? Thought so! And to be fair, it is true enough. But hold it, I will make quick healthy kids meals cook converts out of you yet, as I always do with everyone, and you are no exception.
And when I say kids, that includes you too!
That's right, all kids big and small. But I still call it quick healthy kids meals for two reasons:
It is so simple and so crowd-pleasing that kids eat right along with you. More to the point, it is exciting enough that you eat right along with them.
It aims at ending the era of Mother Bondage, when this kid eats this and that kid eats that.The latter is a nefarious only-in-America habit that blows the house down when it comes to togetherness and good cheer at meal time. (that's right, everywhere else we eat what Mommy made, every day). As often as not it turns dinnertime meltdown time. We will never be sorry to see it go.
Why is it prevalent in America? I can answer that very easily: Because the American Food Industry has a quasi-diabolical power of seduction on us, and is constantly whispering "encouragement" in our gullible ears. What tricks don't they try to sell us the abhorrent microwavable TV dinners,  fish sticks, sugar-free drinks, fat-free yogurts? Sadly, the public is always fair game: But this is Healthy! But it has no fat! But it only has 100 calories! It's Keto! It's Paleo! It's Gluten-Free! It's vegan! It's grain-free! It has 29 added vitamins and nutrients (right right, the very vitamins and nutrients they charged to strip out of the food, hello again, except this time they are putting them back into the food the chemical way, all at a steep price to us!).
All right, I think you get my drift.
There might not be any picky children after all
Or very few. What there might be is, lots of children that got severely addicted to commercial processed foods. Time to get them off the hook, wean them and feed them the good homemade stuff!
Is there any kid out there who didn't get weaned from Mother's Breast Milk? Of course not, thank Goodness! Same here with processed food: If you take it away, they will carry on and kick and scream for a few days, after which they will come to the table, very nicely, and victory will be yours!
In this story I am playing devil's advocate all the way
Yes, it is indeed quite possible that many of us harried moms find meal prepping a real imposition (Ha, this is a good place to introduce you to my own take on meal prepping!) And this is why, in this piece, I am going for broke and pretending I have a bare-bone kitchen and just a few minutes to prep a meal for eight. Here are two settings I have used all my life as boot camp:
Cooking for children in Summer Camp: The Children Food Revolution.   I urge you to read it, you will be rewarded with dozens of recipes kids will be clamoring for. Oh boy, there's nothing I enjoy more than well-fed happy campers!
Cooking on a low budget and in short order Healthy Cooking Survival Guide
The logistics of healthy cooking often seem impractical.
We all find ourselves, occasionally and sometimes not so occasionally, in situations that bring us apart from the comfort of our kitchens and the amenities that surround us daily: a vacation week, a business convention, a year away in college, even a week under the weather. All too often, a quick look at the room we end up in makes us think our meals will consist of very meager pickings for the next few days or weeks (or months: Yikes!)
Not surprisingly, I am constantly asked the obvious question:
What made me choose cooking as a profession?
More to the point, what made me choose healthy cooking? At the risk of sounding sentimental, I would answer without hesitation that it was the relentless tinkering that took place in my college room that did it. And here's why: I didn't know it then, but I was getting the most valuable training, when still a teenager and a few lean years beyond. I was an accidental artisan training in a rarefied environment, with none other than myself as the young but exacting improbable master.
I was equipped with a set of tools that seemed designed more to tie your hands behind your back than to help you hone any skills. I was subsisting on an almost unimaginably low budget; the scantest and most rudimentary utensils (one leaky gas range, 1 battered skillet, one warped pot, one overheating toaster, one cracked blender, and very little else if anything). To top it all off, a room so cramped that if your toast went a shade beyond dark, the dorm security crew would be pounding at your door.
I had no knowledge of food and cooking other than the inescapable memories of modest but fabulous home meals prepared daily by my mother (the original and enduring healthy cooking master!)
I trust you get the picture!
There's only one missing link in the chain I have described, and it's the link that provides the answer. No matter how much of a pauper I was, never having ever eaten any junk food, I knew that food had to be nutritious no matter what. And that nutritious food needed not be expensive.
To this day, when we are away and even when I am feeling lazy or harried,  or when I get surprise guests, I go for broke and pretend I have only a handful of ingredients and utensils to cook with. I don't premeditate any part of these meals, and go shopping with a blank slate in mind, preferring to see what zero-maintenance produce and groceries I will find first. And believe it or not, the results are a real feast. No chopping, no frying, no prepping whatsoever. What will strike you is certainly not that the cook was working on a shoestring budget, but how the integrity of the flavors comes through and how satisfying they are: Healthy cooking, not negotiable!
I am sharing my quick healthy Kids meals "creations"
Cooking without cooking, as I call it fondly. No recipe even. Much like arts and crafts, only with super healthy ingredients!
I have thrown a couple pouches Levana Nourishments in every recipe
The goal here is to maximize the nutritional contents, even while my blends do their unseen magic, totally undetected. Some kids could really use all the nutrition they can get! Shhhh, don't tell them! But let me assure you that even if you don't add them in, it will still be fantastic!
You won't believe this:
We made ALL the following dishes at a single cooking demo
I have the modest hope this will knock your socks off, just as it did our demo guests, in sheer quantity, quality and caliber. An absolute feast! And not only that: We finished with time to spare (less than 90 minutes from beginning to end), we served about 25 guests, and saved enough of everything to make another meal. That's the whole beauty of home cooking: the kind of magic that would certainly never happen with store-bought in a million years!
Here I used a quart of coconut milk and 2 pouches Levana Nourishments Mixed Berry
Hot cereal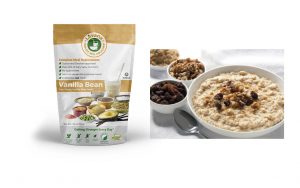 Doubles as dessert at room temperature. In a medium sauce pan on a medium flame, cook 1 cup steel-cut oats (or any other medium-ground whole grain: quinoa, millet, coarse cornmeal, buckwheat etc…), 3 cups water, 2 cups milk or milk alternative, 1/2 cup maple syrup, 1/2 cup golden raisins, 1 diced green apple if you'd like, 1-2 tablespoons cinnamon, good pinch salt, 2 pouches Levana Nourishments Vanilla Bean. Stir occasionally and cook for about 15 minutes. Stir in a little more water or milk if you like it thinner. Refrigerate leftovers if you intend to eat them in the next couple days, or freeze for later use.
Bean Soup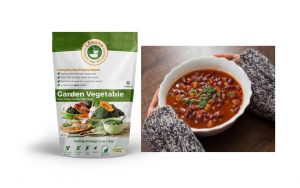 Throw in a pot, placed on a high flame: 3 quarts (10 cups) water, 1/3 cup olive oil, 1 15 oz  can chick peas, 1 15 oz can  red beans, 1 15 oz can lentils, a cup of steel-cut oats, 2 10 oz boxes frozen puree butternut or other red squash (or 1 large can 100% pumpkin), 1 quart jar marinara sauce, 2 pouches Levana Nourishments Vegetable Medley, not too much salt, a little pepper, a little oregano, a little turmeric. Bring to a boil, then cook another 20 minutes.
Refrigerate leftovers if you intend to eat them in the next couple days, or freeze for later use.
Pasta: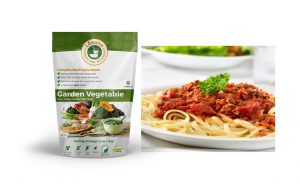 Mix in a large skillet: 1 pound good quality cooked whole grain pasta, 1/2 cup of the pasta cooking water, 1 quart good quality natural marinara sauce,  2 pouches Levana Nourishments Garden Vegetable or Mushroom Medley, and a good splash olive oil. If you want this pasta dish to be your main course, here are two options
Start by cooking 2 pounds lean chopped beef or turkey (which is what we did at our demo), then throw in everything else.
Add 2 cups of a good natural shredded cheese on dairy meal days (worth noting that American cheese is very little cheese and a lot of junk, so I hope you don't go there!)
Chicken and Potatoes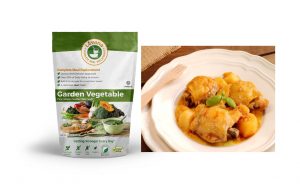 In my Cookbook The Whole Foods Kosher Kitchen, I have an enormous chapter called One, Two and Turmeric. With this chapter alone, you will become resourceful enough to cook a new dish dozens of times. You say baking sheet dinner, I say stovetop dinner, a.k.a Moroccan Magic. I made chicken with half potatoes and half sweet potatoes (I didn't even peel them, that's how pristine they looked) cut in large chunks, 2 pouches Levana Nourishments Garden Vegetable and turmeric. This is hugely popular with kids. My grandchildren always ask their mom for Bubbie's yellow chicken.
Salad: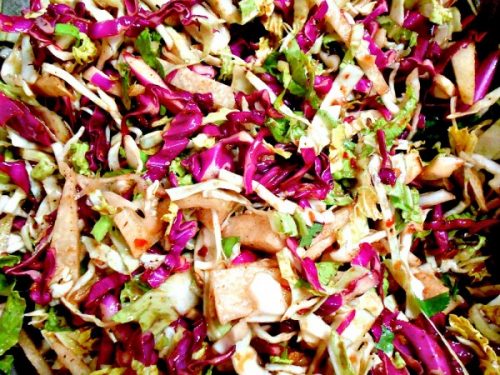 I bought all shredded carrots, beets, red cabbage, white cabbage. Added sliced scallions, sliced celery and a handful roasted pumpkin seeds and sunflower seeds. Olive oil, unfiltered cider vinegar, salt and pepper, end of story. Don't worry about making too much: It keeps well a good couple days.
Healthy Snacks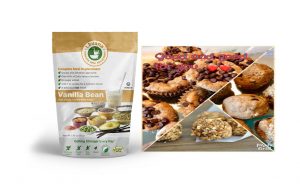 A delicious and fitting finale to quick healthy kids meals. My dear friend Liz graciously made these super delicious, super easy and super nutritious from her inexhaustible healthy snacks repertoire.  Good and Good For You! Get ready for the treats! We used 2 pouches Levana Nourishments Vanilla Bean in all three: Breakfast oat muffins, banana chocolate muffins and Energy Balls. This might get you addicted to gluten-free homemade baking! Eat some, freeze some; nothing will go to waste.
Half and Half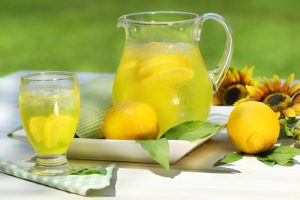 Half Lemonade and half decaf tea. Enjoy my extensive cold drink collection. This is all I ever serve at home!