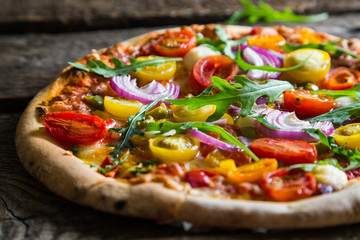 Welcome to your healthy pizza recipes guide
Pizza may taste oh-so-good, but is it oh-so-good for you? Images of greasy and cheesy pizza may bring you back to Sunday afternoon lunches and birthday parties, but is there a way to indulge in this treat regularly, and the healthy way? Welcome to our favorite healthy pizza recipes and inspiration guide. Here you will discover our top tips and recipes to create delicious and nutritious pizza that everyone can enjoy, minus the guilt. Now you don't have to say "no" to everyone's favorite treat. Let's get baking and eating!
Pizza, pizza, how can I resist ya?! This recipe is so versatile, nutritious, and all the meanwhile, delicious! Not only does this recipe allow for you to choose your own toppings, but you are also able to choose your own variation of flour! Don't let the process of creating your own pizza dough scare you away- it is so much simpler than you might think. Make sure to add in Mushroom Medley Levana Nourishments packet for extra flavor and maximum protein and nutrients. Simply mix all ingredients together in a bowl, and then knead away.
Tip: When you're ready to lay out your favorite toppings, cut them thinly so that they will all bake through completely. Also, make sure to arrange the toppings snugly together- no piling allowed here. What healthy toppings will you choose? We suggest everything from tomatoes, zucchini, red onion, mushrooms, olives, and grated cheese, to basil leaves, roasted red peppers, broccoli, and cauliflower. Finish off your creation with oregano, salt, and pepper to taste.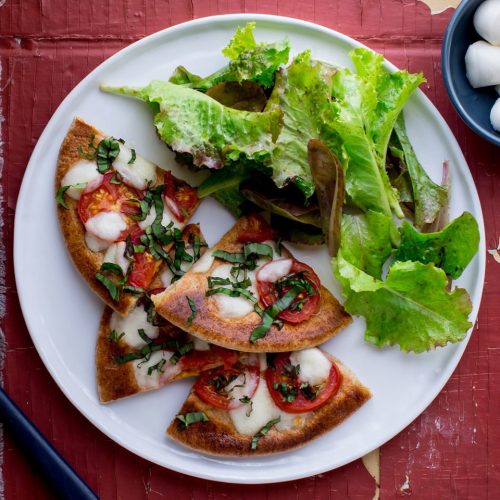 (Recipe and photo courtesy of eatingwell.com.) These bite-size individual pizzas are perfect to create (and devour) when you're short on time, or when all you're craving is a pizza bite. This pita pizza recipe is super fresh, using mozzarella, basil, and other salad greens. You will  practically be eating a healthy salad on top of a piece of whole-wheat pita. This is a match made in healthy pizza heaven.
Just in case you wanted more gluten-free pizza inspiration…
Say hello to delicious and nutritious Mediterranean Cauliflower Pizza, courtesy of eatingwell.com. What makes this recipe so healthy, you may be wondering? Well, "shredded cauliflower is mixed with mozzarella and oregano to make a flourless crust that echoes the flavor of a traditional pizza pie." How mmm-good do these Mediterranean inspired toppings sound?! Talk about a win-win: gluten-free, plant-based, and with all of the zest and flavor of a traditional pizza. Count me in. Pizza party, anyone?
-Talya Hyman